On May 3rd, coinciding with Lay Day of Antigua Sailing Week, the Antigua Wingfoil Championship is hosting a thrilling long-distance wingfoil downwind race. To also accommodate the Sailors of Antigua Sailing week, the organizers have chosen to host the race on Lay Day. This decision not only allows enthusiastic sailors to take part in the event but also provides an amazing opportunity for participants to explore the island's coastline and stunning waters.
Sacha van der Wouden, one of the organizers, said, "We are excited to offer wingfoiling sailors of Antigua Sailing Week the chance to join in on this event. It is an amazing opportunity to showcase the sport of wingfoiling and offer a unique and exciting experience to all participants."
To participate in this unique opportunity, interested riders can register for a special Long Distance Race entry fee of US $95 (one-day). The fee includes a lunch, safety boats, Gill-rash guard, tracking program, a special prize giving, and memories that will last a lifetime. However, to ensure the safety of all competitors, a qualifying process is in place to assess the riders' abilities in foil control, jibing, and riding switch.
Maxim van den Pol, another organizer, explained, "After registering on the site, we ask those who sign up just for the downwinder to send proof of their riding capabilities. You need to be able to jibe both ways on the foil and be comfortable riding in switch stance. We set these requirements because we have to be sure that everyone reaches the finish line."
The Antigua Wingfoil Championship Long-Distance Race covers a challenging downwinder of 8 nautical miles, starting from Falmouth Harbor and ending in Turners Beach. After the race, competitors will be brought back to Pigeon Point Beach (Lay Day location) for prize giving and a celebratory drink.
The Antigua Wingfoil Championship is an important event for the growing wingfoiling community, providing a platform for riders to showcase their skills and compete with other islands. The event is part of a broader trend in watersports, with wingfoiling gaining popularity around the world. The combination of surfing, windsurfing, and kitesurfing makes wingfoiling a unique and exciting sport, attracting a new generation of watersports. enthusiasts. The Antigua Wingfoil Championship is at the forefront of this trend, offering a thrilling and challenging race that showcases the potential of the sport.
This year's Antigua Wingfoil Championship promises to be an unforgettable experience for both participants and spectators alike. Don't miss out on the chance to be part of this exciting event. Register now to secure your spot: Click Here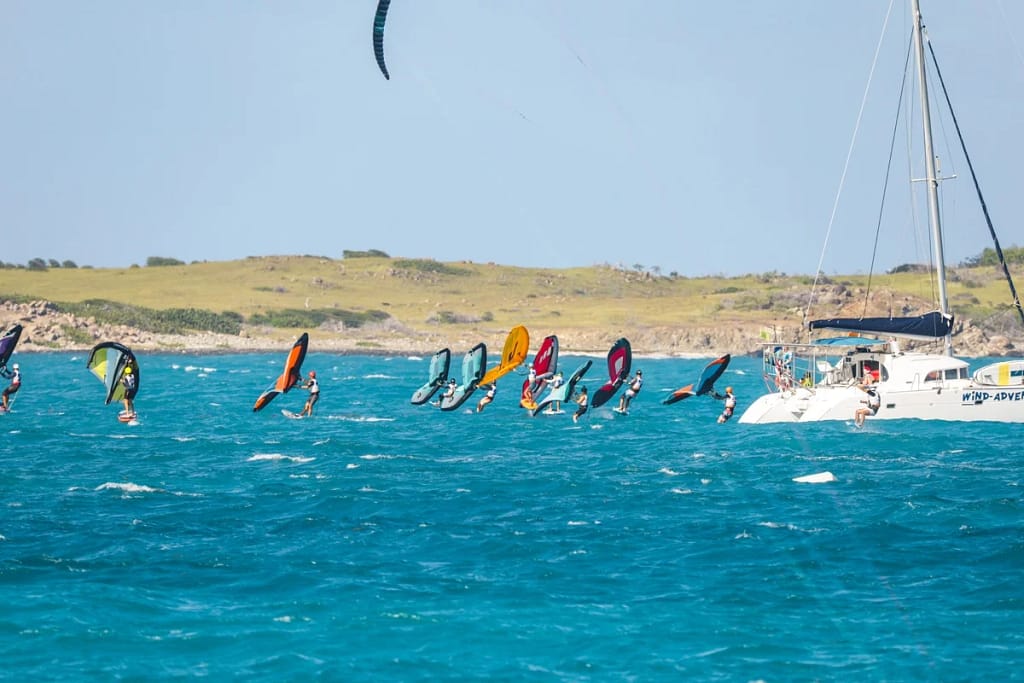 ---
---
The Antigua Wingfoil Championships will celebrate its first edition in 2023, taking place in the beginning of one of the world's major sailing events; Antigua Sailing Week. This new, young and vibrant Class will offer three days of racing and with a professional as well as a leisure division the event is open to Wingfoilers of all levels. With trade winds, crystal clear waters and an everyday sunshine, this island paradise is the perfect setting for this one-of-a- kind event. Come and join the first Wingfoil Class of the Antigua Sailing Week: May 1-3, 2023!