This Sunday was the last race of the Caribbean foiling Championships edition 2021 with the famous around the island race. A precedent record was to beat for the kitefoil professional category, and it was the first time it was attempted in a wingfoil.
Last race of the championships
After two days racing in Orient Bay and around Tintamarre island, today was the final and long awaited race around the island of Sint Maarten/ Saint-Martin.
Some riders are up early, taking part in a yoga session to stretch out after the previous days, or simply focusing on the day to come. ''I want to prepare mentally for this race, my goal is not to win but to finish the race'', says Manuel 'Kiko' Dalmau from Puerto Rico, who participates in races in Puerto Rico and acknowledges the good level of the riders present at these championships, especially the younger ones.
Under strong winds and possible showers weather forecast, Sacha Daunar, an experienced racing judge for the French sailing federation of Guadeloupe, says weather conditions are fine to compete and departure was set at 10 a.m. with wings leaving first, kitefoil leisure and windfoil second and kitefoil professional category last. Getting closer to Philipsburg, the kitefoils which go faster are ahead.
An intense effort
''Amazing! Incredible! Epic!'' exclaimed at the same time wingfoilers arriving in Long Bay, Sammy Martin, Travis Mcgarry and Jan Enderslev, comparing their Sailinsight courses.
The wingfoilers were doing a half around the island tour, leaving from Orient Bay heading south to Philipsburg then to Long Bay, end of the race. Théo Demanez was the only one attempting the all around the island in wingfoil, setting the record at 2 hours and 53 minutes being the first one to do it.
Lucas Marot and Bruno Kancel in windfoil said it was a difficult race in strong wind and waves conditions with a couple hard falls. Sacha Fortuné was prepared to face even more intense conditions and said he enjoyed it overall. Lucas Marot set the record at 2 hours and 10 minutes and all windfoils arrived within 2 hours and 30 minutes.
In the kitefoil leisure category, riders went around the island in less than two hours, with Félix Bellais completing the tour in 1 hour and 28 minutes.
In the professional category, the race was intense and riders were close together, with four riders beating the precedent record of 1 hour and 29 minutes established three years ago. The winner, Julien Quentel, completed the lapse around the island in 1 hour and 12 minutes. Tiger Tyson, arrives second, 1 minute and 30 seconds later.
Maximum security for the around the island race
Priority was given to ensuring safety for all riders. Safety boats were posted in several locations around the island. All riders were geolocalized in real time with a sim card provided by Dauphin Telecom. Two riders had to be rescued by the safety boats, due to gear issue and fatigue, but no incidents were reported.
Volunteers were awaiting the wingfoilers in Long Bay, and a crowd in Orient Bay was cheering for each rider arriving on shore. ''It was a really nice and warm atmosphere'' said a supporter.
Riders pack back their gear, change up, ice some sore muscles, rest and exchange experience awaiting for the prize giving ceremony. Overall results for the three days of the championships are as follow:
Wingfoil category:
Races
First: Chucho Nonnot
Second: Jérôme Thebault
Third: Manuel ''Kiko'' Dalmau
Around the Island Race
First: Théo Demanez
Second: Jérôme Thebault
Third: Manuel ''Kiko'' Dalmau
Windfoil category:
Races
First: Sacha Fortuné
Second: Lucas Marot
Third: Maëlle Guilbaud
Around the Island
First: Lucas Marot
Second: Bruno Kancel
Third: Sacha Fortuné
Kitefoil leisure category:
Races
First: Félix Bellais
Second: Franck Balvay
Third: Mahé Thebault
Around the Island Race
First: Félix Bellais
Second: Franck Balvay
Third: Erwan Jauffroy
Kitefoil Pro category:
Races:
First: Julien Quentel
Second: Tiger Tyson
Third: Nell de Jaham
Around the Island Race
First: Julien Quentel
Second: Tiger Tyson
Third: Mahe Stakelborough
The organizers, Sacha van der Wouden and Maxim van den Pol, are thankful to the sponsors and supporters for making this second edition of the Caribbean Foiling Championships happen. They give thanks to the persons who helped out on logistics and safety, to volunteers, to competitors coming all the way from different islands and countries, and finally to the race committee. They are convinced that this event is positive for the island of Sint Maarten/ Saint-Martin and all riders are looking forward to the next one!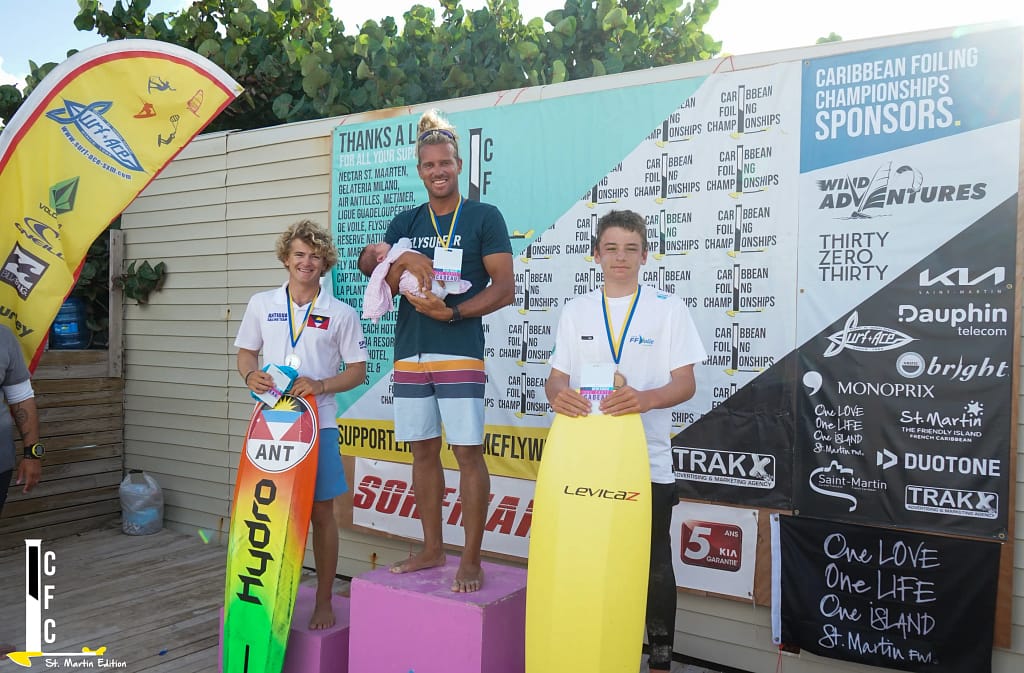 ---
Download High Resolution Picture

here

Download English Press Release here
Download French Press Release here
---
The Caribbean Foiling Championships will celebrate its second edition in 2021. This new and innovative event will offer three days of racing for professional as well as leisure kite-, wind- and wingfoilers! With trade winds, crystal clear waters and an everyday sunshine, this island paradise is the perfect setting for this one-of-a- kind event. Come and join the biggest kite- & windfoiling event in the Caribbean!