This Friday, December 10 marked the first day of the 2021 Caribbean Foiling Championships in Orient Bay. This is the second edition of these long-awaited water sports championships, postponed due to COVID-19 in 2020.
Participants coming from the Caribbean and beyond to compete
The practice of foiling has become popular in recent years. It consists of adding a hydrofoil under a kitesurf or windsurf board to limit water resistance which elevates the rider above the water. As such, foilboarders seem to be floating above the surface in a fast, free and fluid movement. The discipline has been included in the next Paris 2024 Olympic Games.
This year, the Caribbean Foiling Championships have 35 registered riders, coming from all over the region with participants from Sint Maarten, Saint Martin, Saint Barthélemy, Guadeloupe, Martinique, Antigua and Barbuda, Puerto Rico, and from elsewhere such as France, the Netherlands, Greece, Canada but also further away like South Africa and even Norway, with the former Olympic windsurfing champion who has become addicted to foiling.
The riders had met the day before during a convivial wine and cheese evening, sponsored by Monoprix, at the championships' headquarters at Wind Aventures club in Orient Bay. The professional windfoiler Maëlle Guilbaud has a smile on her face: 'it's nice to be with other athletes who share the same passion, you can feel a certain emulation. Saint Barthélemy being right next door, it was obvious to me that I would come and participate'.
From the morning on, a positive group atmosphere was felt, with strong mutual support especially regarding helping out with gears between the runners. For example, the Guadeloupe windsurfing team was unfortunately not able to bring their equipment on time, but could count on the solidarity of other competitors who shared pieces of equipment.
Wingfoiling as a novelty for this edition
Wingfoil is a recent discipline, the gear being available on the market only for the last three years and with the first world championships being organized this summer. The wing has a triangular shape and can be handled directly by hand, without lines like in kitefoil and without boom and mast like in windsurfing.
The organizers, Sacha van der Wouden and Maxim van den Pol, explain that faced with the enthusiasm in this new sport, it was natural to include it in these championships: 'We see this championship as a platform to bring together all foil sports. Wingfoil is a growing and fun discipline. We are pleased with this addition and the success in the entries and outcomes.'
14 runners did a technical slalom course around buoys placed in Orient Bay. There were a couple of falls due to Sargassum, a few bumps between runners, but most importantly good spirits and a friendly atmosphere.
Young people always in the spotlight
At the height of her 11 years, Enoha Laurent from Guadeloupe is not afraid of anything. She sets off with her kitefoil, in sustained 20 knots wind and swell to the starting line to race along with the adults. She is accompanied by her training comrades, and under the supervision of her coach Sébastien Queney, previous record holder for the around Sint Maarten island race in kitefoil, who spins on the water around his young protégés to check that everything is going well and encourage them.
In wingfoil, Arthur Thebault, 12 years old, sails with the smallest wing of the group with more motivation than ever, under the encouragement of his uncle who is also a runner in these championships. After nine races, Chucho Nonnot, 17 years old and currently in the top 8 in the world, won the day's event.
Sacha Fortuné, 16 years old and participating in the French Espoirs Championship for his Guadeloupe club, comes first in windfoil.
The results are tight in the professional kitefoil category for the first place. It is the local Julien Quentel who wins most heats, in front of Tiger Tyson of Antigua, who won the first edition of the Championships in 2020 when he was 17 years old.
If the competitive spirit is clearly present, 'the most important thing is that everyone is safe and is having fun', concludes Sacha Daunar, an experienced racing judge for the French sailing federation of Guadeloupe.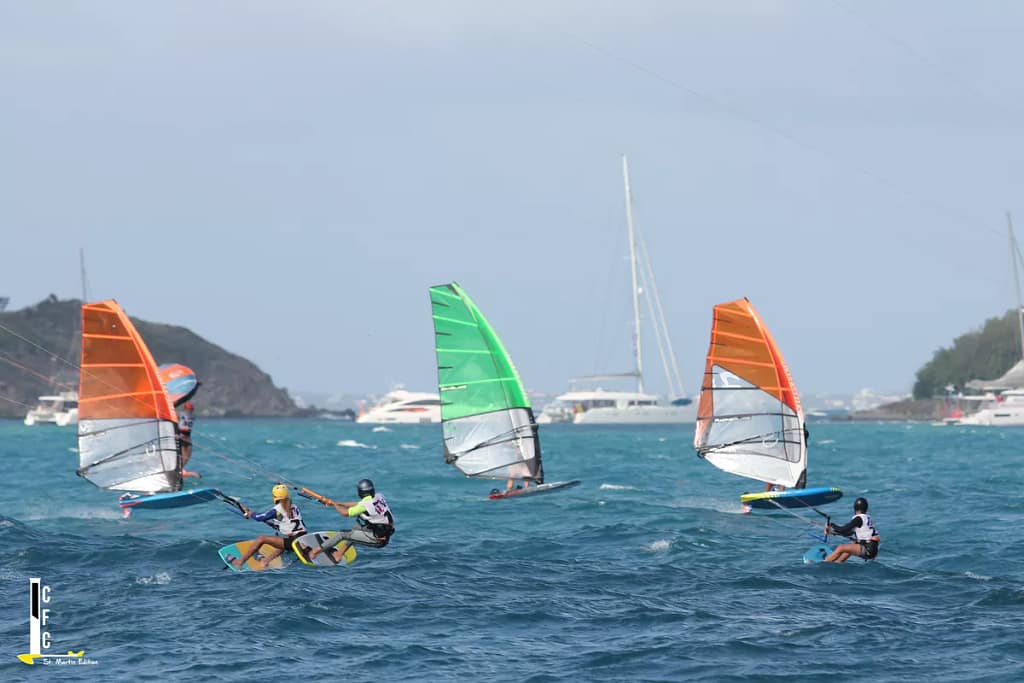 ---
Download High Resolution Picture here
Download French Press Release here
---
The Caribbean Foiling Championships will celebrate its second edition in 2021. This new and innovative event will offer three days of racing for professional as well as leisure kite-, wind- and wingfoilers! With trade winds, crystal clear waters and an everyday sunshine, this island paradise is the perfect setting for this one-of-a- kind event. Come and join the biggest kite- & windfoiling event in the Caribbean!